Recharge your batteries in Brittany
Pour vos vacances à Douarnenez (Finistère), laissez-vous tenter par un séjour dans notre camping en Baie de Douarnenez. 162 Locations vous attendent. Posez votre tente, votre caravane ou votre camping-car. Si vos vacances riment avec confort et convivialité, louez l'un de nos 36 Accommodation : Chalets, Mobile-homes, Tente Lodge et 1 gîte. Pour un séjour insolite, réservez 1 nuit ou plus dans nos cabanes ou roulotte.
In a green setting, in the heart of unspoilt and peaceful nature, you will be a stone's throw from downtown Douarnenez - you will reach the marina of Douarnenez -Tréboul, the beaches, the Gr 34 and the hiking trails in a few minutes by foot.
Shops and bus stop serving the city centre of Dournenez at 300 m. Sports enthusiasts will find their happiness a few metres from the campsite: water sports centre, sailing school, scuba diving, hiking and horse riding. La Pointe du Raz, Locronan, the Crozon Peninsula,... so many tourist sites to discover from the Camping de Trézulien !
The Trézulien campsite was founded on July 7, 1971 on a plot of land on the family farm originally owned by my mother, her sister and her brother. Several months of work will be required to integrate the terraces while respecting the nature of the land, which makes it so original. Initially, the development was carried out on 1 hectare. In 1972 his brother and sister retired, my parents Jeanne and Pierrot Sergent took over.
Votre Camping de Trézulien

Our locations
By motorhome, tent, or caravan
Sunny, semi-shade, there is something for everyone.
Découvrez tous nos emplacements Plein Air
 08 avril au 24 septembre 2023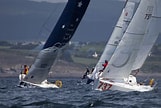 LE MINI-FASNET course à la voile cette semaine du 11 au 18 juin. Bon vent à vous !
Read more
Offers
Venez découvrir nos offres exclusives
Park
Notre parc aquatique est ouvert du 15 juin au 15 septembre.
I recommend this campsite
Very quiet campsite with close city and trade. Very friendly and helpful people.
The staff were very friendly and helpful.
We were the guests of the campsite. We were very pleased and surprised at the friendliness of the staff. Camping with terraces in the shade, view of the harbor and the city, and all comfort. Douarnenez is very close by foot and the activities are varied: the walk and the Museum of boats and sailboats, excursion to the Pointe du Raz, Locronan etc. Next time two Slovenians Aleš and Vlasta Guček
Great location
We had a nice stay, we recommend it. Great location close to the sea.
Very enjoyable stay
We stayed for a 3 day weekend in a Kota. great, even excellent. We were in retreat from the other campers, very quiet, very RESTful. the reception at the campsite is warm, very enjoyable stays. Thank you
Quiet and relaxing campsite
We do not fail to recommend this excellent campsite. Ideal place to recharge your batteries as it is quiet and restful. Very good welcome and thanks to Françoise GUENNEAU for her kindness. Congratulations on getting this fourth star well deserved.
The Trézulian, it comes and comes back with a lot of fun
It's been three years since we come to Trézulian, we appreciate the cleanliness and the quality of the rentals as well as the very green and relaxing setting, very well located. The reception is very friendly: Mrs. Guenneau listens to her clients.