Recharge your batteries in Brittany
Pour vos vacances à Douarnenez (Finistère), laissez-vous tenter par un séjour dans notre camping en Baie de Douarnenez. 162 Locations vous attendent. Posez votre tente, votre caravane ou votre camping-car. Si vos vacances riment avec confort et convivialité, louez l'un de nos 31 Accommodation : Chalets, mobile homes, tent lodges. For an unusual stay, book 1 night or more in our cabins or caravan.
In a green setting, in the heart of unspoilt and peaceful nature, you will be a stone's throw from downtown Douarnenez - you will reach the marina of Douarnenez -Tréboul, the beaches, the Gr 34 and the hiking trails in a few minutes by foot.
Shops and bus stop serving the city centre of Dournenez at 300 m. Sports enthusiasts will find their happiness a few metres from the campsite: water sports centre, sailing school, scuba diving, hiking and horse riding. La Pointe du Raz, Locronan, the Crozon Peninsula,... so many tourist sites to discover from the Camping de Trézulien !
The Trézulien campsite was founded on July 7, 1971 on a plot of land on the family farm originally owned by my mother, her sister and her brother. Several months of work will be required to integrate the terraces while respecting the nature of the land, which makes it so original. Initially, the development was carried out on 1 hectare. In 1972 his brother and sister retired, my parents Jeanne and Pierrot Sergent took over.

Our locations
By motorhome, tent, or caravan
Sunny, semi-shade, there is something for everyone.
Découvrez tous nos emplacements Plein Air
Du 09 avril au 24 septembre 2022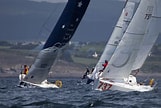 LE MINI-FASNET course à la voile cette semaine du 11 au 18 juin. Bon vent à vous !
Read more
Offers
Venez découvrir nos offres exclusives
Park
Notre parc aquatique est ouvert du 15 juin au 15 septembre.
June 11, 2020
Camping très recommandable pour la qualité de l'accueil…. l'équipement sanitaire….les emplacements pour camping car très bien aménagés…. horizontalité….ombrage assuré.
Sincerely
Very good stay (too short!)
We were very well received, in a very relaxing and neat environment. Everything is done to make sure that we have a good holiday, and with respect for everyone. An address to keep carefully!
Great campsite?
We had a very good stay, the owners are very welcoming. The campsite is very clean and quiet?
the countryside to the city
A green setting arranged with heart and respect. Complete equipment for a long stay with or without children. And some surprises with these converted cottages. A campsite to recommend.
a great campsite!
everything was perfect. we left the campsite with regret, the owners very attentive, attentive, listening, a very quiet, a very well equipped, clean and well located chalet, beautiful flowers all around, and icing on the cake a very nice weather without heat wave!yes it is beautiful in Brittany!
go to the trezulien campsite
We are very happy with the campsite of the trezulien on n y is very welcoming the owners